Online and smartphone-based app enables users to optimise their refuelling strategies
Integrates customer-specific data for customized fuelling recommendations
Available in ten European countries
Kleinostheim, Germany – UTA, one of the leading providers of fuel and service cards in Europe, today announced UTA SmartCockpit®, an innovative digital application that optimises fuel planning for users. With UTA SmartCockpit, freight forwarders and transportation companies can plan the refuelling of their vehicles quickly, easily and conveniently based on individual requirements, realising potential savings of up to 10 Euro cents per litre of fuel in the process. UTA SmartCockpit is available in ten European countries: Austria, Belgium, the Czech Republic, France, Germany, Italy, Luxembourg, the Netherlands, Poland and Spain.

Carsten Bettermann, CEO of UTA, says: "UTA SmartCockpit is a unique digital market offering that can deliver significant value to users across the transportation sector. The solution reflects UTA's strengths as a mobility service provider, particularly when it comes to customer savings, efficiency and process optimization."

The application's fuel planning recommendations are based on a variety of user-specific factors including vehicle fuel level, average fuel consumption, the driving styles and rest patterns of individual drivers, plus route information such as road closures. Company-owned petrol stations can also be factored into planning. Additionally, for customers travelling within Germany, fuel price forecasts are calculated 24 hours in advance.

Measurement is undertaken once a journey has been completed, and is calculated by comparing tank transactions with potential cost savings, providing transparency and control to users.
The UTA SmartCockpit solution is comprised of an online application and a smartphone app that drivers can use to independently plan refuelling. The app provides drivers with relevant information during their journey, so that they know the optimum time, location and amount of fuel to fill up in order to drive most costeffectively. Recommended fuel stops can also be sent to drivers via push notification.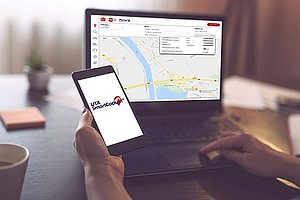 Photo (© UTA): UTA SmartCockpit® offers easy, efficient fuel planning
Related files: