Buses

Making public transportation a pleasant experience for your passengers.
The ideal fuel network for motor coaches
Thousands of stations with affiliated shops and restaurants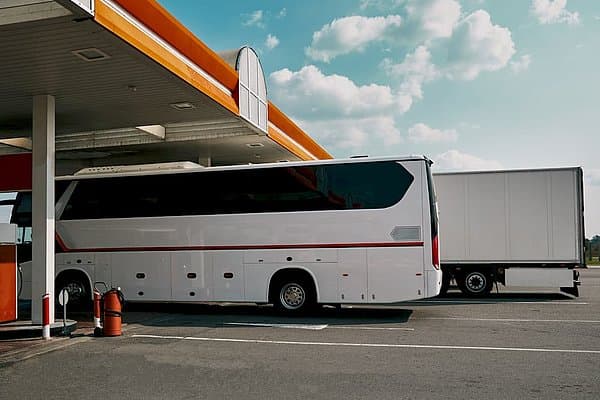 With the UTA fuel card you can enjoy the benefits of a comprehensive fuel station network with 53,800 fuel stations in 37 countries. Among them are 800 rest areas and 2,800 motorway service stations. On your route, enjoy additional convenient services of the fuel stations with affiliated sanitary facilities, shops and restaurants. This is how passenger transport with your motor coach becomes a pleasant experience for your passengers. You can also refuel your coach during the stop, which helps you to save valuable time on your journey. Bring your passengers to their destination safely and comfortably. UTA supports you all the way!
Quick toll charge with UTA
Convenient handling of common bus tolls in Europe
Avoid unpleasant downtime for yourself and your passengers by passing through toll stations quickly and comfortably. With our numerous national and interoperable toll boxes, we always have the right solution for your needs. With solutions for 51 tolls in 26 countries, we make it easier for you to cross European borders and help you avoid long waiting times and complicated settlement procedures. As a UTA customer, you'll also benefit from attractive discounts on tolls in various countries. This saves you time and money!
Numerous vehicle and mobility services
Take advantage of the wide range of services from our partners.
Via our broad network of professional and qualified partners, you have numerous vehicle and mobility services available to you with your UTA card. Our partners offer repair and breakdown services as well as rental and replacement vehicles for your buses so that you can quickly continue your journey in case of a breakdown. You have the possibility of obtaining vehicle accessories at fuel stations with connected shops and to utilise basic vehicle cleanings.
With your UTA card, you also have convenient tunnel, bridge, and ferry services available for your bus trips, in particular on the routes to Mediterranean countries, to Scandinavia, and to Great Britain. In addition, with the UTA parking service you will not need to worry about finding parking for your motor coach on your journeys through Europe. Just take advantage of the services offered by our partner network, including attended parking.
That way, your buses remain mobile at all times!