UTA One® Italy

The national toll solution for Italy
UTA One® Italy
Convenient settlement of Italian tolls for vehicles > 3.5 tonnes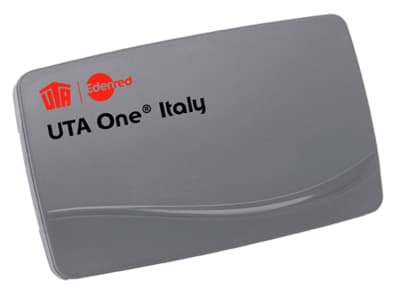 Vehicles are subject to tolls on most Italian motorways. For convenient billing, use the on-board unit UTA One Italy, available in cooperation with our partner Telepass. In addition to tolls in Italy, you can use UTA One Italy to pay for the ferry in Caronte and two parking lots in Italy: at Milan Malpensa Airport and at the Sadobre truck stop in Campo di Trens (Bolzano region).
Tolls in Italy
Milan Malpensa Airport Parking
Sadobre Autoporto parking lot, Campo di Trens (BZ)
Caronte Ferry
Automatic toll settlement when passing:
The on-board unit UTA One Italy is bound to the licence plate. At toll stations with special Telepass lanes, the toll is collected without interruption - simply drive through. As you drive through, your vehicle information is registered automatically. You can then conveniently cover the toll later using your UTA collective bill.​​​​​​​
Change vehicle assignment quickly and easily:
In the UTA customer portal, you can easily assign UTA One Italy to another vehicle. If you have any questions, we'd be happy to advise you over the phone.

We are happy to share our tariffs on request and make you an individual offer.
Delivery time is approximately 4 days after ordering.
The UTA One Italy toll box is attached to the lower area of ​​the windscreen of your vehicle. Please refer to the operating manual for installation details.
Stay mobile in Italy - with UTA One® Italy
Order your UTA One Italy toll box now for toll settlement in Italy - quickly and easily via UTA!
With the UTA One® you can easily travel through Italy - our experts will be happy to advise you on the options for you:
Are you a UTA customer?
If you're already a UTA customer, please click here: