Toll country Belgium

Through Belgium with UTA!
Through Belgium with UTA!
As a country with a lot of transit traffic, Belgium has a well-developed road infrastructure. On 1 April 2016, the three regions Wallonia, Flanders and Brussels started operating the Viapass toll system, which is a toll system on motorways, expressways and some local roads for HGVs over 3.5 tonnes of total towing capacity. This new electronic system replaces the Eurovignette in Belgium. The mandatory toll was expanded to articulated lorries of class N1/BC in early 2018.
In addition to the nationwide toll, a usage fee is also levied on the Liefkenshoek Tunnel. The tunnel operator decides who is subject to the toll and which factors determine the fee.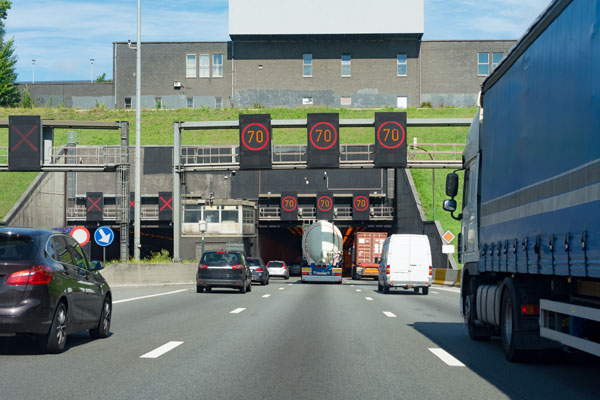 How the nationwide toll is levied
The Viapass toll system is an electronic system with GNSS technology. Tolls are calculated by locating the on-board unit and reconciling this information with the applicable fee model. Some of the factors that impact the fee are the gross weight and the emission class of the corresponding vehicle. The fees also vary throughout the different regions in Belgium.
Here is an overview of the fees in the different regions of Belgium:

Three different control systems are used for verification:
Flexible
E.g. through roadside structures
Please keep in mind:
Belgium levies heavy fines for failure to settle tolls. Always make sure that the on-board unit in your HGV is working flawlessly and that you use the accessories for your OBU without fail!
As a UTA customer, you can get extensive additional information in the UTA customer portal on how to avoid fines.
UTA toll solutions for Belgium
The choice is yours!
For more information about the toll solutions, please visit the relevant detailed pages of the on-board units!
Getting a Satellic OBU on site
For short-term trips through Belgium
In addition to getting an OBU from UTA, you can also get one at short notice from toll operator Satellic directly at a point of sale (POS) in Belgium. Special dispensers are provided for this purpose, which enable you to purchase and return the toll media.

Simply deposit your UTA Full Service Card at the time of purchase and get your toll receipts with a convenient charge settlement term. You can also access your detailed single trip record in Satellic's Road User Portal (RUP).

We would be happy to provide you with more detailed information on all options! Simply contact us!
UTA toll service in Belgium
Your advantages with UTA at a glance
Convenient postpay transactions with an attractive charge settlement term

Detailed and clear billing of toll charges

Liefkenshoek Tunnel: Value Added Tax statement, if necessary net invoice without VAT

Online administration of your toll media in the UTA customer portal

When buying a Satellic OBU on site: Support with account management in the online portal of the toll operator (RUP)

Forms and informational documents for download in the UTA customer portal

Information and support from our toll experts during business hours
UTA tax service in Belgium
As an entrepreneur, you can reclaim the VAT levied on Belgian tolls. Unlike in Brussels and Flanders, tolls in Wallonia are subject to reimbursable VAT. The current tax rate is 21%. In addition to tolls, some parking fees in Belgium are also refundable.

We would be happy to handle this process for you and to make sure you get your refund as quickly as possible. UTA deals with all correspondence with the competent authorities so that you don't have to concern yourself with them or any potential language barriers! You can simply look foward to a credit note!
UTA parking service in Belgium
Convenient parking with UTA
Also take advantage of UTA's constantly growing acceptance network for parking! We are working with numerous car park operators in Belgium who charge parking fees via the UTA card.

Generally, parking fees are also refundable. Check your parking fees for a possible reimbursement of the Value Added Tax! You are welcome to speak to us about this as needed!