EETS Box UTA One®

A single toll solution for Europe
UTA One® – Europe's smartest toll solution
A single on-board unit providing Europe-wide toll billing for HGVs and buses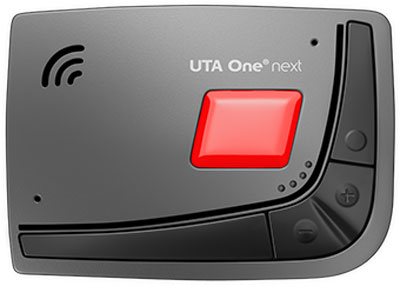 Discover the most comprehensive EETS service on the market: UTA One®. An on-board unit offering an impressive range of European toll contexts and value-added services. With new tolls flexibly unlocked 'over-the-air', swapping toll boxes in Europe becomes a thing of the past.
Cross borders through Europe with EETS
UTA One® currently provides a billing solution for 14 toll contexts: Belgium plus the Liefkenshoek tunnel, Denmark (bridges), Germany, France, Italy, Norway including ferries and motorway network, Hungary, Austria, Poland (A4, Katowice - Krakow), Portugal, Sweden (bridges), Switzerland including Liechtenstein, and Spain. Our coverage will continue to expand, too.
UTA One® is an all-in-one solution - our team will be happy to advise you on how it can benefit your business:
Are you a UTA customer?
If you're already a UTA customer, please click here:
Our customers recommend UTA One®
UTA frees up time for what really matters!
UTA One® is an all-round EETS toll box for Europe-wide billing. It delivers a wide range of benefits through its many uses, saving you time and money. Combine it with the UTA Plus services you already use via your UTA Full Service Card and realise true value for your fleet and company!
Please contact us with any questions.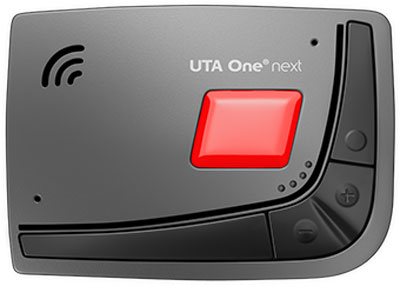 It's easy to install UTA One®!
UTA One® has been designed for plug & play installation: Place it on your windscreen, connect it to a permanent power supply, and you're set to go! This also makes it easy to switch the box between vehicles. It couldn't be easier!
Still have questions? Find answers here.
Belgium
Liefkenshoek Tunnel
Denmark (bridges)
Germany
France
Italy
Norway (ferries and motorways)
Austria
Poland (A4, Katowice - Krakow)
Portugal
Sweden (bridges)
Switzerland and Liechtenstein
Spain
Hungary
We are continuously expanding the OBU service portfolio.
Attractive discounts:
Benefit from attractive discounts with UTA One®! Save up to 13% on tolls in the TIS-PL toll network in France; up to 50% on the Via-T network in Spain; and approximately 26% on the Liefkenshoektunnel in Belgium!

Interoperability:
With this toll box, you will be able to process most European tolls for roads, tunnels and bridges. You can activate and deactivate contexts in the UTA customer portal in just a few clicks - around the clock!
In addition to toll processing, the on-board unit supports billing for ferry and parking services. Everything is electronic and cashless - with only one toll box in the cab!
You can also look forward to further UTA One® services in development!

Simple vehicle changes:
Change vehicle data for the on-board unit quickly and easily via a form and assign the toll box to another vehicle in your fleet.

Concise billing:
Enjoy a Europe-wide billing service from one source! All fees processed via UTA One® are consolidated in a concise, transparent manner via your regular, tax-optimised UTA invoice.

Reporting:
Optimise your routes with single trip reporting. As a UTA customer, you can view and download reports at any time from the UTA customer portal. Extensive filter options are available for detailed analysis. By making reports available in Excel, you can easily use them for fleet administration.
Delivery time is approximately 10-12 working days after the order is placed.
Attaching and connecting the box is easy, but we recommend consulting the user manual. Correct placement on the windscreen is necessary for error-free data transmission.
UTA One® can be permanently installed in your vehicle's electrical system. For this application, we'd recommend installation by a qualified workshop. Ensure that you have an uninterrupted power supply and that you only use original parts to guarantee that the toll box will function properly.
UTA One® incorporates the very latest technology. Experience it for yourself and test Europe's smartest tolling solution.
A permanent power supply is necessary while driving. We recommend the fixed installation of the on-board unit.
It depends on which and how many on-board units a return is required for. Your UTA customer service representative would be happy to calculate your savings.
Once UTA One ® is connected to a power supply and its LED turns green, it is ready to use Depending on the toll, activation on the on-board unit must be checked before crossing the border.
UTA will issue statements on the 15th and the last day of each month.