Individualised fuelling plans with UTA SmartCockpit®

Reduce fuel costs easily and efficiently
Travel more efficiently with UTA SmartCockpit®
A large part of transportation companies' budgets are set aside for fuel costs. Pre-planning where and when to fuel along HGV routes can have a significant impact on profitability. Unlike other apps, UTA SmartCockpit® takes your specific requirements into consideration. You can customise fuelling plans based on your individual conditions, saving a lot of money!
Discover UTA SmartCockpit®
Innovative fuel planning that does more for you
UTA SmartCockpit® is a digital application (available in German and English) that allows you to plan your vehicle fuelling costs, leading to significant potential cost savings. Simply enter your route in UTA SmartCockpit® to get the most favourable fuel scheduling recommendations along your route, based on your individual conditions. Once you've completed the route, you can use the Analyse tool to review your actual savings.
Save time and money when fuelling
 UTA SmartCockpit® is that easy
Fuel planning: Enter your point of origin, destination, and any stops, and UTA SmartCockpit® will identify fuel stations with the lowest prices on your route.
Benefits: You can reduce costs - and, using the exact price forecast (only available in Germany) - you won't be surprised by unexpected prices.
Vehicle and driver management: Add or remove vehicles and drivers.
Benefits: You can plan flexibly and save time thanks to the easy operation of the system.
Driver control: As a fleet manager, you can use the push function to send a fuelling plan to a driver and therefore control where they refuel. Using a PC, you can review whether your driver has followed your recommendation and thus taken advantage of savings potential.
Benefits: Your driver can concentrate on the trip and receive recommendations for the best fuel stations with a single click.
By the way: This function is only available with UTA SmartCockpit®!
Analysis: Calculate the potential savings of all your UTA fuel transactions.
Benefits:  You'll benefit from clear reporting of results and minimise fuel costs by recognising optimisation opportunities. Having a single, clear view of all savings opportunities will save you time.

Travel though Europe cost-effectively
Find the most inexpensive fuel stations with UTA SmartCockpit®
Fuel prices can differ considerably on a route as our sample calculation shows.
Route: from Prague (Czech Republic) via Frankfurt (Germany) to Metz (France)
Length: 757 km.
Fuel costs
| | |
| --- | --- |
| with UTA SmartCockpit®: | € 666.54 |
| Average: | € 876.82 |
| Maximum: | €1,074.84 |
| Average savings: | €210.28 |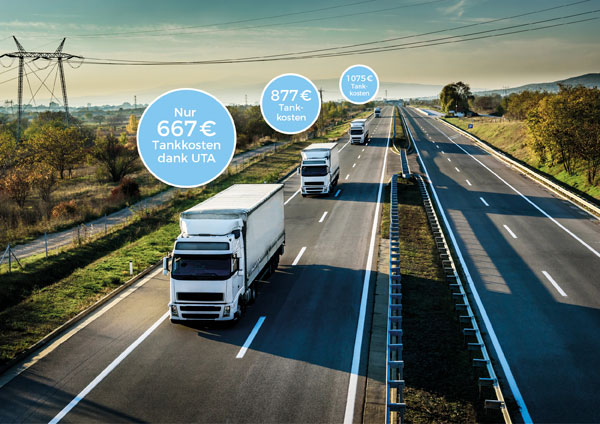 Parameters used for the calculation
Start: 20.01.2021 at 14:53; projected prices at market transparency unit; vehicle tank capacity: 900 litres, vehicle consumption: 33.5 litres / 100 km; fuel level at start: 180 litres; maximum deviation: 1 km; Number of tanks 676 litres
That's how cheap cheap fuelling can be
UTA SmartCockpit® pays for itself quickly and offers individual fuel planning at an attractive price.
Price scale based on your fleet size:
| | | |
| --- | --- | --- |
| From # of vehicles | To # of vehicles | Monthly subscription fees |
| 1 | 10 | € 29.95 |
| 11 | 30 | € 49.95 |
| 31 | 60 | € 79.95 |
| 61 | 100 | € 99.95 |
| from 101 | | € 179.95 |
The best part:
No binding contract:
Monthly cancellation

Transparent pricing:
No hidden fees
Introductory offer
Free use for the first 2 months!
UTA SmartCockpit® app for your mobile device
Optimal fuel planning while on the go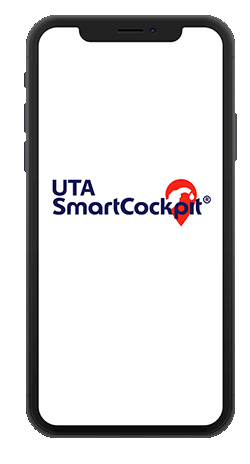 Want your drivers to be able to plan their own fuel stops? No problem: They simply need a mobile device (Android or iOS) and the UTA SmartCockpit® app to find the best fuel stations in just a few taps - with no PC required. It couldn't be easier!
Simply designate them as a driver in UTA SmartCockpit® so they can use UTA SmartCockpit® to its full extent. After receiving an activation code, they can start using it immediately.
Download the free UTA SmartCockpit® app now!

Switch now for truly personalised fuelling plans!
Advantages at a glance
Juts one click to personalised fuel planning: Active UTA SmartCockpit® now!
Frequently asked questions and answers
UTA SmartCockpit® takes into account your individual UTA conditions when making fuel station recommendations. That's how you get the most optimal recommendations. Thanks to the exact price forecast for Germany you can find out fuel prices for specific times.  Additionally, you can plan your refueling in ten countries - Belgium, Germany, France, Italy, Luxembourg, the Netherlands, Austria, Poland, Spain and the Czech Republic.
For Germany we always use the current price of the market transparency unit when quoting prices and giving price forecasts. For all other countries we use the officially reported price when making fuel station recommendations. For stations in our networks that have the option of an alternative price model - e.g. our UTA set price - these prices are also taken into account, provided you use this price model.
The shown or forecasted prices in UTA SmartCockpit® already take into account your personalised discounts and price models.
UTA SmartCockpit® includes coverage of ten European countries - Belgium, Germany, France, Italy, Luxembourg, the Netherlands, Austria, Poland, Spain and the Czech Republic - to facilitate fuel planning for cross-border trips. Further markets are expected to follow.
You can plan your routes and corresponding refueling stops conveniently on both your PC and mobile devices with this adaptive tool. The only requirements are an updated internet browser (Microsoft Edge, Google Chrome, Mozilla Firefox, Apple Safari) and a steady internet connection. Using your smartphone, you can plan your fuelling using the UTA SmartCockpit® app on Android or iOS devices.
The web version offers the entire functional range of UTA SmartCockpit®. Because the app is meant to be used for simple fuel planning on the go, the functionality has been adapted and reduced. The analysis tool, success reporting on trips, and settings can only be found on the web version. The app is used for fuel planning by means of a radius search or route planning and receives fuel recommendations that are transmitted via the push function in the web application.
As a UTA customer, you can activate UTA SmartCockpit® in the UTA customer portal.
If you are not a UTA customer, you can fill in the contact form at the bottom of this page.

No. You should choose the corresponding package based on the number of vehicles that are going to use UTA SmartCockpit®. The packages do not differ in the services offered but rather based on the number of vehicles. You can choose a package that best meets your needs from our selection. Depending on your requirements, the subscription can be extended or reduced after activation.
No. UTA SmartCockpit® is simple and easy to use: simply enter your route and set your parameters to receive the most economical fuel station recommendation.
Still have questions? We're happy to answer them.