UTA corporate fuel cards

Economical, multi-brand and Europe-wide
One fuel card for everything - Europe-wide
Benefit from a variety of services with one card and no minimum purchase quantity.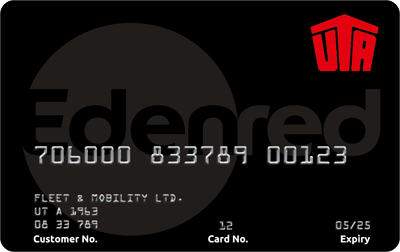 Using a single fuel card, you'll benefit from numerous advantages regardless of your fleet size: You can fuel at one of the largest brand-independent fuelling station networks and receive multiple services at UTA acceptance locations throughout Europe. And, you can do it all without cash using the UTA EasyFuel® digital fuel card. Attractive discounts with our acceptance partners can save you money. And in the UTA customer portal, you can quickly and easily view transactions for your entire fleet online, 24/7 - because the fuel card can be used for all vehicles: passenger cars, transporters, HGVs and buses.
UTA fuel cards: A cost-effective solution for your company
No matter which vehicle or how large your fleet is - you'll benefit.
Whether you're a large haulage company or a small contractor: With UTA international fuel cards, you'll always have a strong partner at your side to provide road services for your fleet throughout Europe, with a comprehensive network of locations where UTA is accepted. Key advantages include:
The UTA Fuel Card Configurator
Find a suitable fuel card in a few clicks
Fuel cards can help your company save costs. Our experts are happy to advise you:
Are you a UTA customer?
If you're a UTA customer, please click here:
Find the right fuel card for your company
Below are our fuel cards at a glance. Simply select the card that is right for you, or use our card configurator to find the solution that fits your vehicle.
With a fuel card from UTA, you can fill up at a fuel station cashlessly, wash your vehicle or buy accessories. You don't need cash, or a credit or debit card. The UTA fuel card is made of plastic with a magnetic strip that looks similar to a credit card. It is assigned to a specific vehicle. The registration number of the car is often embossed on the card. There is a unique PIN for each UTA card to protect the card against misuse.
After refuelling, simply present your card at the till. Then, type in the kilometre reading followed by the PIN code entry. The PIN for each card is unique. This authorises the transaction and you can continue once the transaction has been completed. Even better, You don't have to keep the receipt!
There are different pricing models: The UTA Full Service Card is free of charge if used regularly. You only pay a service surcharge when you use the card. The surcharge is calculated as a percentage of the turnover made (amount filled * column price) per transaction. UTA gives a discount on the pump price depending on the amount of turnover. You can also choose the UTA list price model: a price that is valid for the whole day regardless of fluctuations in the column price and which is announced the day before.
Fuel without cash and independent of brands and bill for other services
No admission fee, no minimum turnover, no minimum fleet size
14-day collective invoice showing VAT
Attractive payment terms
Attractive discounts on toll billing
Security: PIN code, security check and online authorisation at the POS, individual blocking limits and usage restrictions, card blocking online
The UTA fuel card is worthwhile even for one vehicle. By using the fuel card, you'll receive a discount and eliminate the administrative hassle of paying in cash. Furthermore, you'll no longer have to collect and submit fuel receipts. Compared to a credit card, a fuel card is recognised by the tax authorities; you simply submit our invoices directly to the tax office. We don't settle every transaction with you immediately, but every 14 days via a consolidated invoice with attractive payment terms.
UTA fuel cards offer every company the advantage of cashless and brand-independent use. They are just as suitable for transport and logistics companies and forwarding agents as they are for bus operators, craftsmen and self-employed professionals, and passenger car fleets.
In contrast to fuel cards from other issuers, you can refuel across Europe at over 55,000 petrol stations. including economical brands. You can get an overview of the stations in our UTA station finder .
If you're a company employee, we suggest you speak with your fleet manager. If you, as the person responsible for the fleet, would like to apply for fuel cards for your employees, you are welcome to contact us directly . We will prepare a tailored offer for you without obligation.
Our UTA eCharge Card is designed for electric vehicles. This allows you to charge your electric vehicle at 295,000 charging points - the largest network in Europe.
No, there is no minimum to spend with UTA fuel cards.
Unfortunately, we exclusively serve business customers.